One Of The Most Frequently Asked Questions We Get Is: "Why Skulls?"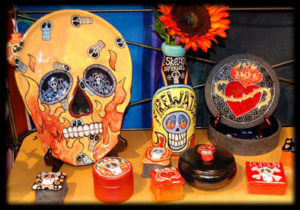 Just so you know, it is not because we are obsessed with death and darkness in fact, you may have noticed that most of our pieces are grinning & very bright: we love to use primary colors, jewel tones and textured glazes. We could go all punk rock on you and ask "Why not skulls?" or we could say that that the reason we like skeletons so much is that they are easy to paint on ceramics but that would be pulling your femur… err, leg! But seriously, here is why:
Because we love ethnic folk art, especially Mexican Day of The Dead pieces, like the tiny skeleton figurines and sugar skulls. In Mexico, "Dia De Los Muertos" is a huge holiday, and not macabre at all, in fact, it celebrates the natural cycle of life and death within nature, as well as honoring, and celebrating the dead. Another influence that translates into our imagery are the colorful and symbolic Buddhist and Hindu meditation paintings, which often include skulls and skeletons in reference to the cycles of life and human existence.
Skellramics skulls and skeletons are good spirited, even kind of warm and fuzzy, less "horror movie" and more cartoonish. They are grinning, rather than grimacing. Our skeletons like to have a good time: we depict them playfully dressed up to go out on the town; dancing, drinking, playing musical instruments, even gazing at each other with love! Wouldn-t you be happy to have a big grin on your skull when it is all said and done?
Call us weird, but to us, it is a kick to see every day items like coffee-mugs, clocks, butter-dishes, bud vases or tableware decorated like they came from a psychedelic rainbow-colored haunted house! Skulls are also not the only motif we use repeatedly. We like strong symbols and also use a lot of hearts, stars, cats, flames, crowns, devils, and even sexy pin-up girls! We combine our bright colors with hand glazed geometric backgrounds- often using swirls and decorative patterns.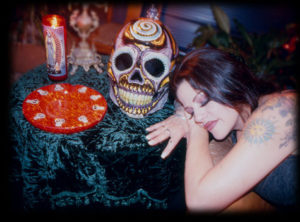 But back to skulls- we love them because of Halloween memories (always a favorite holiday) and the idea that the ghouls and goblins in all of us can come out and play, (at least for the night). We love the romance and legends of old-time pirates and the mystery of magicians, myths and the great beyond. Skulls remind us of vintage rock-n-roll posters, the comic books and cheesy monster magazines we loved as kids, not to mention the paintings on the side of the funhouse, our favorite ride at any carnival.
We love skulls because we like the rebellious independent spirit implied by them: pure Americana guts and glory whether it is from a song on the radio like -Leader Of The Pack-, or on the silver screen in -Easy Rider-. Never underestimating the inspiration and thrills of classic Hollywood monster movies, (every mad scientist has to buy his potion bottles somewhere.) Skulls remind us of retro hot-rod and motorcycle art, and old-school tattoo flash…
The references could go on and on but, you get the idea…