(By Pleasant Gehman)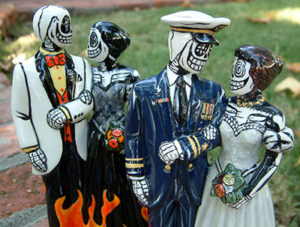 Since 1990, Skellramics has been producing an unending chain of innovative and adventurous ceramics, featuring a variety of pieces from tonic and potion bottles, mugs, jewel boxes, shot glasses, ashtrays, even hand carved chess-sets and figurines. Skellramics have a high level of craftsmanship. Their pieces reflect the off-kilter sense of humor of their colorful creators. Skellramics' designs are not only functional, but also whimsical, synthesizing a variety of artistic influences into an eclectic, individual style. Skellramics combines timeless craftsmanship with vibrant comic-book colors.
One of a kind and limited edition ceramics are hand carved and hand-glazed with brilliant color glazes in layers for intricacy of textures. There are butter dishes emblazoned with pin-up girls, tiny jewel-tone boxes for storing treasures, laughing devil-head pitchers and detailed skeleton couples just waiting to appear atop wedding cakes. Coffee-mugs with psychedelic swirls will wake you up almost as much as the caffeine itself and substantial goblets with three-dimensional skulls that would fit right in at any castle.
Ceramics are all handmade in Southern California in standard editions, as well as limited editions for the serious collector. There are even one-of-a-kind pieces, which will never, ever be reproduced. Limited editions and one-of-a-kind pieces come with certificates of authenticity and are numbered and signed by the artist.
We have discovered along the way, even if Skellramics is not for everyone, everyone knows someone who would like it!